As much as I appreciate saying "you" instead of "thou," I can't help feeling that modern English has lost some of the richness our language once possessed. The word awful is a prime example. Today we use it to mean "bad" or "disgusting," but its original definition was more along the lines of: "inspiring such awe and admiration as to border on terror."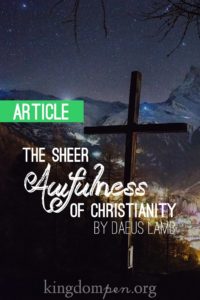 I don't think we have a word for that emotion anymore, or even any concept of what it looks like.
In my opinion, an understanding of the sheer awfulness of Christianity is the primary ingredient missing from Christian fiction today. I hope to combat this deficiency by delineating three areas where writers can improve their portrayal of Christianity.
God as an Antagonist
I will start with how we view God, since this forms the cornerstone for how we view everything else. We are in grave danger of misrepresenting God. Whatever led the ancients to craft gods in their own image is still at work today. Yet it has evolved. Instead of fashioning gods in the likeness of ourselves, we treat God as a servant who is beneath us. In Christian literature, God is often cast as the one prompting people to come to him and find the answers to all their troubles. God is essentially a mentor figure or sidekick. He is there to help the protagonist reach his goals through gentle reminders and friendly persuasion. Of course, God usually isn't an actual character in the story. He's seen indirectly, but this is still the impression we get of him. Although he seems nice, it's like he's tacked on to the plot. [Read more…]