Few flaws can kill a story's theme and message as much as blatancy.
We've all read books that constantly hit us over the head with the author's beliefs. Afterwards we resolve never to do this as authors.
But then we sit down to write and realize how easy it is to make this mistake.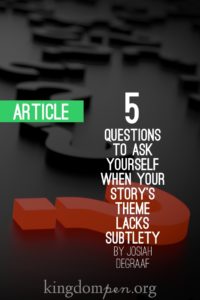 Why Subtlety Is Important
As I explain in my article, "Is Fiction Inherently Worse Than Nonfiction," literature's thematic power lies in moving emotions, not reason. Generally speaking, stories don't change readers by presenting new logical arguments. That's the role of nonfiction. Instead, fiction changes readers by showing what it means to live morally versus immorally, and what the results are. [Read more…]