When you pick up a work of fiction at your local Christian bookstore, you can probably expect a couple different things in it.  You can expect it to center around Christian characters that run into some kind of a problem.   You can expect there to be either a really nice atheist or a really mean atheist who ends up converting by the book's end.  You can expect the main conflict in the book to be challenging—but not overly so, because by the book's end, everything will need to wrap up in a happy ending.
And it's because of this that some of you may be doing a double-take upon reading the term: "dark Christian fiction."  Is Christian fiction really allowed to be dark?  Doesn't writing for the Kingdom and shining Light in our fiction mean that we want to avoid writing fiction that's going to be really dark?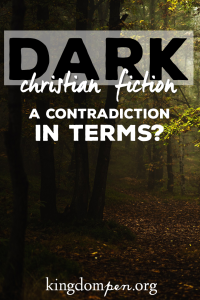 There can be some fair cautions that should be taking when portraying darkness in fiction that I'm going to address later on in this article.  But what I want to argue in this article is simply this: Darkness must not be excluded from Christian fiction.  We can have a lively discussion how darkness should best be portrayed and how much of it should be shown.  But a refusal to accept dark tones in fiction is problematic.  And because of this, dark Christian fiction is therefore not a contradiction in terms but one that we ought to accept not only as a valid category, but also a necessary category in the world of Christian fiction.
Darkness in Christian Literature
Let's go back to the hypothetical bookstore that you're perusing.  You pick up a random book off the shelf, read a couple pages, and soon discover that the book is about a man who was unjustly imprisoned for twenty years and who, upon being freed, proceeds throughout the rest of the book to take revenge on everyone who had wronged him.
Perhaps a bit shocked, you put the book down and pick up another, hoping for something better.  But in this book, the main character is a college-dropout without a real job who within the first several chapters ends up murdering his landlady with an axe for a variety of reasons and as the book progresses, goes on to fall in love with a prostitute.
Both of these books would perhaps be tough sells to make in today's Christian market.  [Read more…]