By Melody Faith
Writing or reading a dark book can be a very debatable topic for Christians. How dark is too dark? How much gore is too much? It has gone back and forth for years.
Recently, I read an interview with Ted Dekker discussing the darkness in his writing. He explains why he feels the need for it. He wants a distinct difference between good and evil in his stories. He wants readers to look at evil and be repulsed by it while they look at good and see the beauty in it. I found this to be a masterful way of describing how to handle darkness in Christian stories.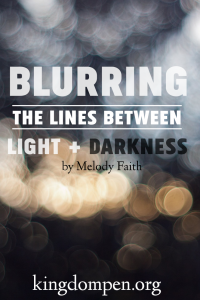 Today's media and pop culture really likes to blur the lines.
Disney's 2014 retelling of the Sleeping Beauty story, Maleficent, is an interesting example. The story portrays Maleficent as the protagonist, while King Stefan as the villain. I personally found it to be very confusing and down-right disturbing. I struggled to find a character to like, pity, or care about. I really despised all of them, even though I knew they wanted us to love Maleficent. I had a hard time pitying her. She was evil. She chose to be evil and did wicked things. None of this was addressed as wrong; you were simply pressed to pity her.
Another example for this is Tim Burton's 1993 Nightmare Before Christmas. While I adored the music and the simple story, I was disturbed by the twisted worldview. It portrays Halloween characters, who in themselves are not evil. They simply do their job every October 30th. But for some odd reason, no one likes the Boogie man. He is bad, and they mean really bad. It struck me as so odd. Who was to say he was worse than Jack? Where was the line? Jack the Pumpkin King was the one you cared about and loved, even though he was in fact a skeleton and the King of Halloween. But the Boogie man, though he was like any other evil Halloween character, was still the evil villain. Our hero and villain were both evil characters. A cute, creative story, but a twisted perspective.
[Read more…]