Welcome to the 39th edition of KP Critiques! May others be inspired by your bravery, Lady Shaina. Even the most skilled wordsmiths shudder at the sight of an editor's dagger, but it's a necessary training procedure. Although you may emerge with blood splatters on your hands, your sword will be sharpened and your story will wield more impact.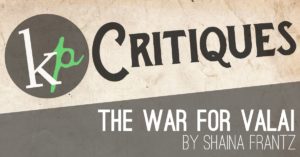 Now, onward to the analysis of Shaina's tale!
Terrence grabbed the statuette of a knight and threw it as hard as he could toward the walls of the tent. Immediately both men stopped what they were doing and stared at him, surprise on their faces.
He heaved a deep breath. "Sorry. That was uncalled for."
This feels abrupt. It might be more effective if you introduced the men in the tent and showed the reason Terrence is frustrated before his reaction.
"Perhaps, but I do believe that we can agree with the sentiment.," Wizard Gyre said dryly, regarding him from under bushy white eyebrows. [Read more…]