This post is a collaboration of thoughts from the KP Team, building off of part 1.
How should the Christian writer handle the prospect of female characters in combat?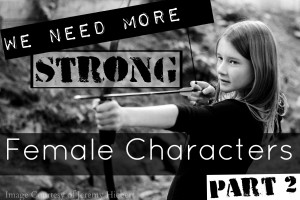 Strength comes down to how well someone or something fulfills the purpose it was created for. Men and women were created to fulfill different roles, each reflecting one-half of God's character. A woman doesn't need to pick up the sword, or express military prowess to be strong.
Does this mean we can't depict women in combat? Not at all!
As writers, we need to draw a careful distinction between aspects of the story that are there just because it reflects reality, and aspects that we're trying to glorify.  In the context of whether not we should write stories with women in combat, this distinction can become pretty crucial.  There is nothing wrong with writing about "gung-ho, beat-'em-up female characters taking part in combat" necessarily. To the extent that our culture is moving in that direction, those sorts of people do exist in real life to some extent.  The real question then, is whether or not we present it in a positive light in our stories. Gender roles and gender callings are a tricky subject to wade through, especially in light of a culture that's very hostile to drawing any distinction between men and women.  It therefore becomes imperative to focus on biblical commands to guide us through these discussions, and not on cultural standards.
The real question then becomes, "should we be glorifying women in combat?"