by Fyodor Doestoevsky
You don't need to read that much into the book to learn what its plot is: it's a story about a Russian axe-murderer who kills an old lady who runs a pawnshop seemingly for money and afterwards tries to hide what he did from the authorities.  It's a shocking premise, and yet the depth and complexity of this book has made it a lasting member in the list of the classics, as well as being perhaps one of the greatest Christian novels of all time.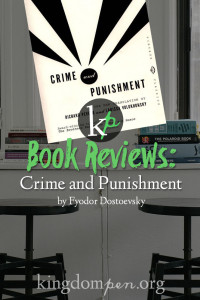 Since the murder of the old woman happens within the first sixth of the book, the whole rest of the book is focused on the mind of the murderer, Raskolnikov, and this is where the full genius and depth of the book really comes in.  When Doestoevsky initially wrote this book, he told his publisher that he intended it to be the psychological account of a crime that was committed by a young man who "had submitted to strange 'incomplete' ideas which float on the wind," and that certainly comes out.  Crime and Punishment explores the complexities of human psychology within the mind of a murderer like few other books do and portrays rather keenly how destructive a vice pride really is.
What is perhaps most interesting about the book from a literary perspective is its use of foil characters.  Foil characters are minor characters who are similar to the main character in many ways—but who also have major differences that end up having a lot of relevance in the overall scope of the book.  In Crime and Punishment, Doestoevsky uses a plethora of foil characters to show the readers different examples of who Raskolnikov could turn out to be depending on the choices he makes.  Is he going to become like one of his noble friends, or one of his less savory acquaintances?  The book makes for an interesting study of foil characters, so if you're a fiction writer looking to make more use of them in your story, this is a good book to study. [Read more…]