By Tessa Just   
Swish, crackle, swish. The sound of straw being moved filled the longhouse. Fifteen-year-old Katrina blinked as a burst of sun lit the gloomy interior. A tall boy grinned down at her through the hole in the roof and teasingly dropped a few strands of straw onto her golden hair.
She glared up at him. "You'd have been sorry if I'd been cooking your meal," she scolded. "Can't you give me some warning next time?"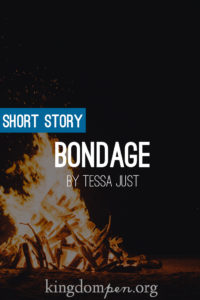 Lang laughed good-naturedly. "I told you that Miksa and I were replacing the thatch today. You should have chosen to do something outside." He turned to the boy behind him. "Can you bring up the fresh straw, Miksa?"
"Yes, master."
Katrina and Lang winced. How they hated that title. The two siblings had offered friendship to Miksa on more than one occasion, but he refused it. Katrina gazed up into Lang's troubled brown eyes. He leaned down toward her.
"Meet me in our secret place tonight," he whispered. He glanced over his shoulder. "I need to talk."
Katrina nodded and returned to her spinning. [Read more…]