Today we have the distinct pleasure of interviewing Hope Ann, whose name you might just recognize as she's been part of our writing team for a while now! She's the author of two novellas, the second of which released about a month ago, and is talking with us today about her experience with writing novellas and marketing them. Her first novella, Rose of Prophecy, is available for free in digital formats, and we're doing a giveaway for her second novella, Song of the Sword, at the end of the interview. So read on to learn what advice Hope has to give on novellas and marketing!
KP: What led you to become an author?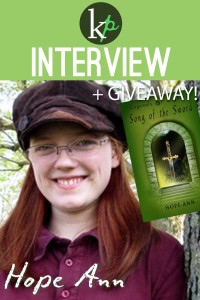 Hope Ann: I've dozens of stories inside my head and I simply have to write them down because they're too exciting not to share with others. I've loved stories and written for as long as I can remember, though it's only in the past four or five years that I've become systematic and steady about it, with firm goals about how I want to inspire others with my writing.
KP: Who has influenced you most as a writer?
Hope Ann: Everything I read, watch, listen to, and see in the world around me influences and inspires my writing, but the greatest personal influence comes from my father. He's always encouraged me in my writing, even if, at the same time, he sometimes points out things that sound too much like an unrealistic scene in a movie. He reads all my writing (at least everything that I deem written well enough for others to see). He lets me talk about writing even though there are times my ramblings are confusing even to myself. And, while expecting me to help around the house, he also understands that writing is my self-imposed job and makes sure I have time to do it. [Read more…]