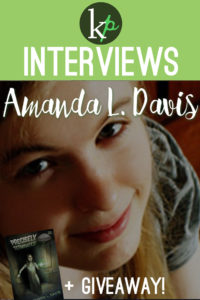 Today we have the privilege of interviewing Amanda Davis, author of the award-winning Cantral Chronicles. If you haven't heard of her before, you may have heard of her father, Bryan Davis, author of the best-selling Dragons in our Midst series. I (Josiah) read Amanda's first two books while in high school and loved their character depth and suspenseful plotting, so I was thrilled to get the chance to talk with her now about her experiences as a writer.
Amanda published her first book when she was only nineteen years old, so today we talk about her road to publication as a teenage writer and the challenges she's had in editing her books. Keep reading onto the end of the interview to get the chance to enter a giveaway for Precisely Terminated, the first book in her Cantral Chronicles series.

Journey to Publication
KP: When did you first know you wanted to be a writer?
Amanda: I believe I was fifteen when I decided I wanted to be a writer. When I was about twelve, I started touring with my dad, helping with the book tables and listening to him speak. After meeting people from so many places and seeing their reactions to his books, I wanted people to hear my stories as well.
KP: When you were still in your teens, what helped you the most as an aspiring author?
Amanda: My father's writing lessons probably helped me the most in my writing journey. I took his classes a hundred times over, thanks to traveling with him. I often had to hear a new concept a dozen times before it would stick.
KP: What's something you wish you knew as a younger writer? [Read more…]