By Hannah Whatley
When I was a child, I spoke as a child;
I acted and thought and felt as a child,
But then I turned seventeen.
Seventeen—Oh, the great and glorious mystery,
Between the realms of infancy and maturity;
The questions of life that shape our future history
Are laid unadorned before us—Oh, the treachery
Of life! It offers dreams, adventures, and stories
Of hope, of freedom, of love, of passion and glory;
Childhood passes blissfully by; we think victory
Will come to us because we wake up in the morning.
Unaware are we of the future tears, sweat, and blood
It will take to learn if our next step brings dry land or mud.
Our lives become enigmas, riddles misunderstood:
"If we could, then we should, and if we will, then we would."
Alas! What hope or peace can there possibly be
For the creature suspended twixt sixteen and eighteen?
Where can an answer to this age-old question be seen?
Oh the blessed, infuriating age of seventeen!
But now, my soul, the great Way-Truth-Life enters the room;
He alone is the world's song, the unending tune;
He alone is the sun for the day, the night's one moon;
He lived the way, died as the truth, and brought life from the tomb.
He has always held the future in His gentle hands,
And never ceases to laugh with me, and understand
Where my wild, roving heart goes, what mysterious lands
My mind wanders to. He's not moved by the shifting sands
Of the age of seventeen.
---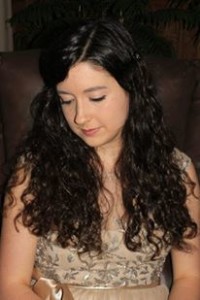 Hannah Whatley is a homeschooled senior who loves writing but knows that she has a long way to go in learning the art. When she writes, she tries to remember what a wise woman of God once told her: "Your writing is not from much study, not from your head, but your heart." She has been a believer for most of her life, thanks to Jesus "knocking on her heart door" and her parents' devoted teaching. She lives in Mississippi with her parents and her dog, TJ, and enjoys dancing, playing violin, and acting out Shakespeare with her best friend, Shelby, in Shelby's barn loft.