Who's ready for another contest?! We are. In fact, we're pretty jazzed about announcing this one!
Do you write poetry? Then this contest is just for you! As it is National Poetry Month we thought it befitting to host a poetry writing contest.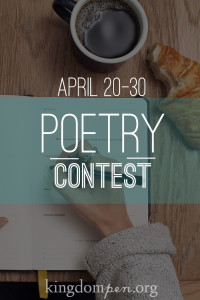 What'll You Win? 
1st place – a critique and comments from the judges of their poem, as well as this amazing book, A Poet's Glossary
2nd place – a critique and comments from the judges of their poem, along with a beautiful complete collection of Emily Dickinson's poems.
3rd place – a critique and comments from the judges of their poem.
Contest Guidelines
The contest will run from April 20-30.
That's ten days to whip up a poem, trim off an old one, or showcase a brand new one you've been waiting to present. Take advantage of those two weekends!
Our contest is limited to those of you who happen to be in that special age category lovingly known as teenagers: 13-19
One poem per contestant. 
This limitation is your best friend. You can focus all of your attention on that one little winner and shock the words right out of us.
Poem length: 15-50 lines. 
Contest Submission Guidelines
Formatting Qualifications 
Format all submissions in Times New Roman font, at 12pt text size. Left-justify all text and use italics for all words of emphasis.
Type the title of your submission at the top of the page in bold text, with your publishing name typed directly below it. Skip a space, and then begin your material.
Save your file under the following title format: your last name/comma/your first name/hyphen/the title of your material (example: Miller, John – Evening Tales)
In the subject line of your email, write Poetry Contest Submission.
If at all possible, please use Microsoft Word files. If you do not have Microsoft Word you can easily download versions of it for free from the Internet.
Where to submit: 
As always each submission should be sent to the Kingdom Pen email: kingdompenmag@gmail.com
Judging Process
Our two poetry editors, Haley and MacKenzie Long will be determining 1st, 2nd, and 3rd place winners.
Each poem will be rated on its poetic technique, effectiveness, style, and creativity.
We eagerly anticipate the flood of entries!