We are so excited to finally be revealing to all of you the third place winner! MacKenzie and I had a difficult time narrowing it down as there were thirty entries, but we made the choice and here is the poem that snatched our creative writer's side.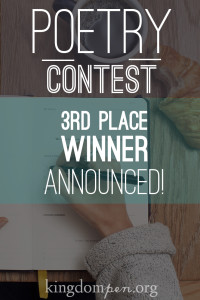 This poem is perfect for writers as we can all relate to the big bad, evil writer's block! 
We hope you enjoy reading it just as much as we did!
Congratulations Lauryn Trimmer!! 
The Death of Imagination
A Poem Illustrating Writer's Block
It was a terrible fate,
My imagination was left out at the gate
And, in the mad criticism of late,
Was swiftly murdered by the hate.
This is still a terrified shore
As we roam the streets he'd roam the more,
All of us shall miss him sore,
And forgetting him will be a chore.
This was wickedly preordained
By the critics whose displeasure rained.
His blood they spilled, his tunic they stained.
Poor Imagination will never be regained.
This is a horrid time,
The melancholy church bells chime
For the master of all sorts of mime,
Of writing, acting, and of rhyme.
This is indeed a ghastly scene,
His grave is blanketed in green,
His tombstone the bleakest I have ever seen,
The sadness of its words is keen.
This is a depressing view,
A group of my characters, although few,
Cried rivers of tears as if on cue
For the imagination we all once knew.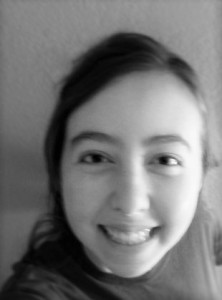 Lauryn Trimmer lives in California with her parents and two brothers. When Lauryn was three, she began writing her own stories, most of them starring Snow White and Larry the cucumber. Now she enjoys writing poetry and working on her two novels. Her favorite genre is fantasy, but she writes contemporary Christian stories too. When she isn't writing, Lauryn enjoys singing, playing basketball, and archery. In the future, Lauryn hopes to become a published novelist and an actress.