By Kate Flournoy

In losing lies the finding.
In sacrifice the gain.
Freedom is a binding rope,
And liberty a chain.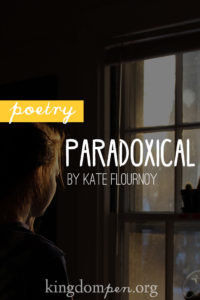 Loving is releasing.
Releasing is relief.
Devotion is a letting go,
And knowledge is belief.
Hatred is unworthiness.
Unworthiness a void.
Grace is for the graceless one,
And reason has destroyed.
In giving up lies victory.
Humility is strong.
Submission leads to freedom's gate,
And time is not so long.
A spirit lives forever.
The lives of men are mists.
Work is vain endeavor,
And a paradox exists.
---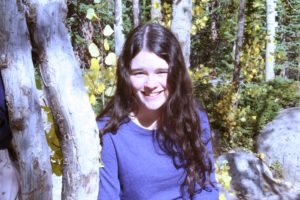 Kate Flournoy is a seventeen-year-old authoress and die-hard political junkie. She lives with her parents and nine other siblings in the Hocking Hills of southern Ohio, where they run a cabin rental business. She has been homeschooled all her life, and to date has written eight completed novels (only four of which are worth mentioning), numerous poems, and a handful of short stories. Besides writing, she enjoys singing, drama, reading, philosophy, psychology, painting, and a host of other minor hobbies such as calligraphy, wood burning, and jewelry making.
She loves deep discussions, vibrant colors, strong tea, and old books; detests all board games except chess; and has a dangerous habit of walking around with her head in the clouds.
When not writing or reading or practicing musical trios with her sisters, Kate can be found diligently attempting to be witty, climbing an occasional tree, and avoiding her three deadly enemies: coffee, cream cheese, and shrimp.