Welcome to Kingdom Pen!
We're so glad you have found us and hope you will consider becoming a part of our community. Kingdom Pen exists to equip young writers to pursue their craft with proficiency and purpose. We regularly publish articles on fiction writing, short stories, and poems, and also have a thriving forum community, all as a part of our attempt to encourage teen writers to write stories that shine the light of Christ to the world. The only thing that will ever fix the problems of this world is the atoning work of Christ, and we believe that one of the best ways to share the glory of His truth and work is through the timeless art of storytelling. We are here to do what we can to encourage the promotion of that art and be ready to start a fire for Christ to burn through the hearts of our culture—a culture that is obsessed with stories.
You can learn more about the Kingdom Pen Team here.
How Can I Get Involved?
Great question! We recommend that you begin by signing up for our email list. As soon as you sign up, we will send you our Best of 2016 ebook for FREE. This ebook includes our best articles, poems, and stories published in 2016! By signing up, you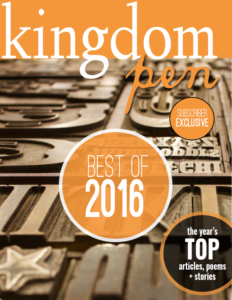 will also get weekly emails about new content on the website, along with exclusive writing prompts. We promise not to spam you with emails or give out your email address.
Next, we recommend joining our active forum to get connected with our thriving writing community. You'll get to participate in the forum topics, meet other aspiring writers, and submit your own writing for peer critiques!
Interested in getting your work published? We love to publish articles, poems, and short stories that are written by our subscribers! Read through our submission guidelines first, and when you are ready to submit, email us at kingdompenmag@gmail.com. We'll review your submission and reply as soon as possible.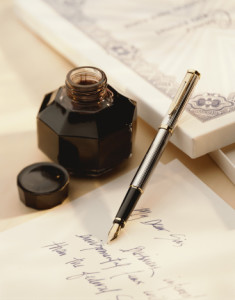 To get the full Kingdom Pen experience, we recommend following our various social media accounts to make sure you don't miss a post! We have accounts on Facebook, Instagram, Pinterest, and Twitter, and we often share exclusive quotes and helpful images on these various sites.
Finally, if you ever want to contact us, whether to ask a writing question, learn more about us, or share your thoughts, we'd love to hear from you! Email us at kingdompenmag@gmail.com and we'll do our best to respond as soon as possible!
We're so glad that you've found us and hope you will visit often!