By Natalie Griffin
That glorious day I felt a stir,
One in my heart that I'd never heard.
It was the Word
Coming to intervene in my lost, broken life,
To be a light in my darkness and a relief to my strife.
Although it's fair to say in my eight-year-old circumstance,
I didn't give the true meaning of "new life" a second glance.
It wouldn't be until several years later
That I would finally understand the true impact of my Savior,
And when my Jesus was nailed to a tree,
He thought of me that day at Calvary.
So I started growing, got baptized,
Spent time in the Word with the goal to memorize.
To others it seemed I was overwhelmed with joy,
But deep down inside I felt like a Christian decoy.
The pinprick of stubbornness tugged at my heart.
In this play called life, I wanted the lead part.
I played the sweet church girl; "Jesus" answers were spoken,
But a small part of me still felt a little broken.
It took a week of sweaty prayers and trusting Him daily
For me to let go of my plans and trust Jesus like crazy.
I remember the night so fondly in my mind:
The invitation to let go and leave my worries behind.
The music softly played, then my knuckles turned white,
Because the row of seats in front of me I was gripping so tight.
I walked down the aisle, which seemed like a mile,
To be greeted by my youth pastor's warm, knowing smile.
We prayed together, for I wanted to let go
And let Jesus tell me what He wanted me to know.
My heart was wide open, my soul on my sleeve.
The worship was so sweet—I never wanted to leave.
When the music ended, my eyes were blurry and red,
But my heart was ready to hear what God had said.
That night I waited, but what I wanted never came.
With sorrow I thought maybe things were still the same.
But the very next morning, I woke with purpose in my heart—
Ministry was my calling and that day I would start!
I found my calling and God's direction for me,
But I had to learn to trust in what I could not see.
I thought with this calling I had a life checklist.
I quickly found out there was something I had missed.
I had to live by faith and on God's timeline.
I had to trust that He is good and know His plans are not mine.
Another problem I started facing every day
Was when I looked in the mirror, I saw myself a certain way.
Not as my heavenly Father's beautiful daughter,
But instead wishing I was the world's definition of "hotter."
It's still something I struggle with every day,
Wishing my crazy hair or pimple would go away,
But the more I wanted this worldly, physical wealth,
The more it took a toll on my spiritual health.
Because instead of looking in the Word,
I was waiting for "you are beautiful" to be heard.
I was dropping the bucket and it was coming up dry.
I'll be honest—there were times when I cried.
In trying to fill this desperate "need,"
I looked to movies, TV, and my Instagram feed.
While the world said wear this, that, and immodest dresses,
Jesus the whole time was telling me I was precious!
Again, it's a struggle I face every day,
But now I can proudly smile and say,
I'm His in every way!
God's blueprint for me is perfect and good.
He'll be there beside me just like He said He would.
My future isn't mine, it belongs to Jesus,
Helping further the kingdom of the One who redeemed us.
I've never looked back. I know there will be hard times.
Jesus said if you want easy, then you've got the wrong guy.
It will take lots of tears, sweat, and dirty knees,
But it will all be worth it if one soul is saved through me.
Wherever He takes me, I'll try not to think twice,
Because Jesus surely made the ultimate sacrifice.
I've found freedom in Christ and all He can do.
You can also be set free because He loves you too.
---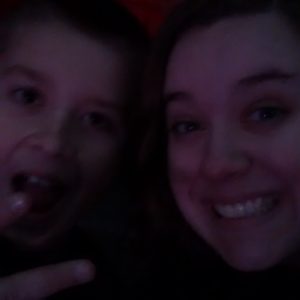 Natalie Griffin appreciates the power words have on people. Her desire to write and glorify the King flows through her words and onto the page. Her family life is never dull with two mischievous little brothers and a faithful mother and father to guide her. She is a precious daughter of the King of Kings, and she felt the calling to student ministry the summer before her freshman year of high school. Even though she stays busy going into her junior year of high school and with youth events at her church, writing is her passion.