The results are in! Tom and Jo have picked the winners, and here they are!

In alphabetical order:
Ashley Barr – With My Song
With My Song
Why is my life going to pieces?
Why is my world falling apart?
Guilt and anger are clouding my mind,
While mourning fills my heart.
What have I done to deserve this?
Why are these trials crushing me?
How can I fill this void inside?
When will my heart be free?
How can I soar like eagles,
When I can barely crawl?
I give up; I give it to you,
I can do nothing at all.
Lord, you took my heart and made it clean.
You gave me a life brand new.
You took my mourning and gave me dancing.
And with my song I will praise you.
I called on you in the day of trouble,
You delivered me from the fore.
I will glorify you all my life.
You are my one desire.
I sought you, you heard me,
You took all my fears away.
I will serve you in everything,
Forever, come what may.
The Lord is my strength,
Who is there to fear?
I know that before I call,
My Jesus, my Savior, is here.
Lord, you took my heart and made it clean.
You gave me a life brand new.
You took my mourning and gave me dancing.
And with my song I will praise you.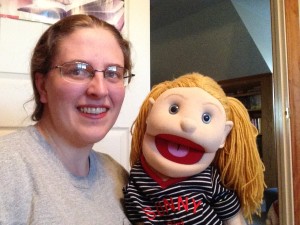 Ashley Barr is a native of Hartville, MO. She is twenty-three years old, and is employed by a local manufacturing company. She also babysits four amazing kids and is the proud sponsor of a boy in the Philippines. In her free time, Ashley enjoys reading, writing, painting, learning languages, and puppetry. Her puppets are well known by the local kids (of all ages!).
–
Leah Good –  Because You, Jesus
Because You, Jesus
Lord, take my understanding, take my heart,
Of all I know and think be Thou the start.
Alpha, Omega; Begining and End,
I beg Thee holy wisdom to me send.
(Chorus)
Because You are worthy of everything,
To You, of You, for You creation sings.
Because You, Jesus, walked this road before me,
So here I kneel and offer all to Thee.
Peace, Thy perfect peace, in this world of sin,
This wond'rous miracle without, within.
Proclaim Thy greatest work inside my soul,
To make it known in all the world Thy goal.
At Thy firm word the waves and billows cease,
Tis by Thy hand the prison bars release.
Thy breath gives life to all who walk the earth.
Thy blood, poured out, gives broken lives rebirth.
Bring every scattered nation, tribe, and tongue,
Thy song of praise to sing while day is young.
Shout holy, holy, holy to Thy name;
For You alone are great and You will reign.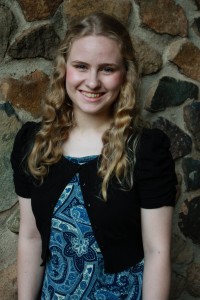 Leah E. Good is a daughter of God, lover of stories, homeschool graduate, and passionate orphan care advocate. She lives with her parents, brother, and Shetland Sheepdog in beautiful New England. You can find Leah blogging about books and bookish topics at leahegood.com.
–
Phoebe Westwood – Running the Race
Running the Race
The first will be the last they say
I wasn't caring either way
Then you stepped in and changed my day
So I guess for now you're here to stay
At first I admit I was just confused
But I found myself when I found you
And now my spirit's breaking loose
Forevermore it's you I choose…
(CHORUS)
Fear I'm lost, slow me down
Change my heart, turn me around
Complicated circumstances
Can't go back, I'm taking chances
Oh, now I'm found
Soul is safe, my mind is sound
Best and worst still yet to come
But I can't go back 'till the race is won
Some days my road is none too straight
Temptation bites and tries to hate
I tell that devil, 'you're too late'
I'm running for those pearly gates
Some days I feel I've had enough
The road's too long, the trail's too rough
But I can't quit, God made me tough
Heart's fashioned from the stronger stuff…
(CHORUS)
(Bridge)
One too many times, I've fallen
On my face, couldn't hear you calling
'Till you showed me grace, and now I see
That it's 'cause of your love that I can be free
And I can win this race if I just believe
(CHORUS)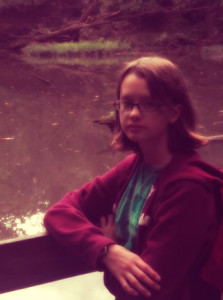 Phoebe Westwood has been writing since she was eleven and hasn't stopped since. She's been living for God even longer, and hopes to one day combine those two passions. Phoebe loves words (where would we be without them?), acting, and art of all sorts.Currently, she's living in a forest (though no one knows which forest) with her family and dogs.
Each of these winners will have their lyrics converted into songs by Tom and Jo, and we will post them as soon as they are recorded! Stay tuned, and congratulations to the winners!