By Ingrid Dornbirer
Shattered and shameful,
These things described me.
Fearful and hateful.
These words defined me.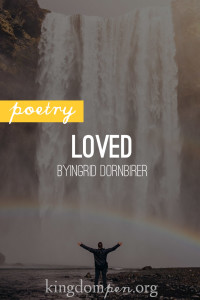 Broken and chained.
That's how He found me.
Confused and blamed,
When His love surrounded me.
Frightened and doubtful,
That He would be there.
Shaken and hopeful,
Wanting to believe He cared.
Accepted and received,
By His amazing grace.
Renewed and relieved,
That I had found my place.
He came through,
And now I know,
He's making me new,
And He'll never let go.
I'm holding tight,
Knowing He's there.
Willing to fight,
When things aren't fair.
Though I'm still broken,
And I regularly stumble,
He teaches goodness and
Tells me to be humble.
When I feel lost,
And pained or alone,
He lifts up my face,
And calls me His own.
Shattered and shameful,
Those things no longer describe me.
Faithful and grateful,
These words now define me.
Never lose heart,
When life gets tough.
Because He says you're,
Safe, whole, and enough.
He says you are loved.
---
Ingrid Dornbirer is a 13-year-old homeschooler.  She lives with her parents, 3 sisters, and one brother near Columbus, Ohio in the country on a small farm.  Her obsessions:  JESUS (first and foremost), writing fantasy and poems, acting (she performs with her sisters in community theater shows), singing, reading (mostly fantasy), drawing, dancing, and spending time outdoors and with her family.  She hopes to become a published author when she grows up and is currently writing 3 novels, one with her sister, Greta.