Hello Kingdom Pen! We are broadcasting another idea with you today, this one, about broadcasts!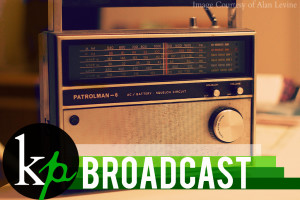 Ever since I attended a blog radio program and was able to ask N.D. Wilson a question about what advice he would give young authors trying to get published, I thought it would be so cool if Kingdom Pen could also have an internet radio program. If you look at our Roadmap, you will see we have KP Radio listed as an unscheduled goal. However, we would like to make this a scheduled goal.
But before we do, we want to know if this is something you would want. Would you be interested in tuning in for a live internet radio program, or listening to the recordings later as a podcast?
What would you like to see us talk about on a radio program, or in podcasts?
Here are some of our ideas, but I'm sure many of you could come up with some great ones!
We would love to invite other authors, both established writers and young authors who are just getting started, onto the show and ask them questions about writing and the writer's life. We also think it would be great if those listening could ask questions of the authors, like I was able to of N.D. Wilson.
Probably best done as a podcast series, we could record shows giving some quick and practical tips on writing, or talk about some of the common struggles young writers experience.
Famous People Read Your Poem
An idea hatched in the mind of Daniel Thompson, have you ever wondered what your poem would sound like read aloud by a celebrity? No? Well I bet now you do now; I know I do! What if we had a segment where submitted poetry was read in a celebrity impression?
Ask us questions on writing and/or writing for Christ, and we try to answer. Like Your Questions: Answered, but via live internet radio.
Have an idea for a novel you would like to get feedback on? Send us a synopsis and we'll discuss it on the show.
These are just a few concepts we have come up with, but we want to create shows that YOU would enjoy listening to and participating in. What ideas do you have? We really want your feedback, so if you could, please answer this short 3-question survey to help us gauge if KP Radio/podcasts is something you would want, and if so, what it should look like. Thank you all so much!
Create your own user feedback survey