By KayleighAnne E. Stanton
What if our time collided with another? What would happen to our world? Who would we become?
See the answers unfold in Waterfall, book one of the River of Time series.
Every summer, sisters Gabi and Lia have reluctantly traveled to the beautiful country of Italy with their parents, who seem to care more about archeology than their daughters. After the death of their father, the girls stumble across Etruscan ruins their parents have long been hunting for. One hot, dusty day the sisters sneak off to examine the tomb, artifacts, and strange handprints no one can explain.
When the girls touch the handprints, they are pulled into a whirlwind that sweeps them into fourteenth-century Italy, where life is difficult. The sisters get separated, and Gabi searches desperately for Lia—and a way to return home.
As an aspiring author and teen reader, this book's vivid detail, cute characters, and intricate plot drew me in from the very first page. The novel is narrated by a quirky, relatable character and contains every aspect a modern girl yearns for: clean but adorable romance, handsome knights in shining armor, heart-throbbing action that isn't too graphic, surprising plot twists, and a quest to seek the "higher power" in this life.
As soon as you open the book, you will behold the world of ancient Italy, the tall and elegant Forelli Castello, and rolling hills where battles rage in vibrant colors no words can describe. This piece of art is followed by three novels and two novellas. The characters grow and mature throughout the story, learning to trust in the God who created them.
With over thirty books that have sold more than one million copies, Lisa T. Bergren has become legendary. People have raved about her books since the first release. Girls will walk away from this Christy Award winner with a sense of relief, belief, and beauty, and eager to get their hands on the sequels.
Do you want entrancing, Twilight-like romance without all the grime? If so, the River of Time series is the ideal choice. The books were born out of Lisa's need to provide wholesome, God-honoring romance for her own daughters. The series also encourages young writers to write great fiction that glorifies God and that people of all ethnicities and religions will enjoy. The River of Time series demonstrates that romance doesn't have to be dirty to be beautiful, gory to be fast-paced, or foul-mouthed to be intense. I highly recommend this series to anyone with a love of history, humor, romance, and action.
---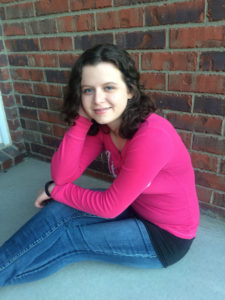 Ever since the age of nine, KayleighAnne has loved writing, reading, and anything of that creative world. She has three younger sisters, an older brother, and one fat cat. She is a homeschooled Michigander and relies on God, her family, and friends. She loves reading and writing dystopian, romance, sci-fi, and adventure. A recent member of the YWW, she hopes to have her current dystopian novel traditionally published within her high-school "career." She also has a blog; check it out here: http://dystopianlogic.tk/.