By M. R. Shupp
If your best friend was kidnapped, to what lengths would you go to bring her home?
Piper Sail is an eighteen-year-old woman living amidst the jazzy 1920s. When her best friend, Lydia, goes missing, Piper breaks the societal expectations for a woman her age and investigates the disappearance. She earns the disapproval of many, but she does catch the eye of a handsome detective named Mariano. Together, they continue to search, but Piper discovers information that makes her believe Lydia's abduction is part of a bigger scheme.
Stephanie Morrill's novel will transport you to the heart of glitzy 1920s Chicago, complete with flapper dresses, speakeasies, mobsters, and corruption. When I began reading the story, I was surprised at how quickly it came to life. Morrill contrasted the affluence of Astor Street against the underbelly of Chicago through detailed description that blew me away.
My favorite aspect of this story, however, was the theme. Piper's determination to find Lydia shows the power of friendship. As Piper digs deeper into Chicago's underbelly, she uncovers secrets about her family, Mariano, and Lydia that leave her wondering if she truly knows anyone.
Despite the emotional turmoil she experiences, Piper stays strong in her loyalty to Lydia. She tells Mariano, "You said that you didn't know any other way to play the game except to give it all. To leave it all on the field. That's how I feel about Lydia. I don't know how to do anything else but leave it all on the field."
People attempt to convince Piper to give up the search, especially when the situation becomes more dangerous. Instead, she follows the advice of her father: "To love anyone is to risk."
Piper doesn't fear traversing the underbelly of Chicago if it means she may unearth a clue about her friend, neither is she afraid to use her feminine charms to gather information from unsavory men. Although Piper's methods aren't always honest, it demonstrates how much she is willing to risk for Lydia's sake, and her devotion is admirable.
If Piper hadn't clung to her friendship with Lydia, she wouldn't have been as compelling a character, and she would have abandoned her mission because of the perils involved. Thus, without the theme, the story wouldn't have happened! Authors need to imitate Morrill's example and use theme to weave plot and characters together. Theme will motivate characters to persevere through trials and obstacles, and it will enable readers to connect with them and cheer them on through the difficulties.
Morrill introduces new twists nearly every chapter to complicate the mystery, and the romance between Piper and Mariano adds flair to the story as they try to solve Lydia's disappearance as well as figure out their relationship. However, I wouldn't recommend reading this novel before work (unfortunately, I made this mistake) or late at night because you may get sucked into the story!
---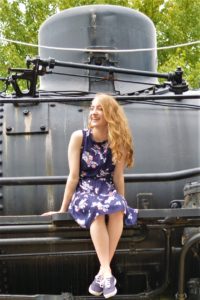 Galaxy tights, mismatched socks, and a cup of tea in her T. Rex mug often accompany Megan when she sits down to write. Her passion for story has impacted her life since she and her sister first began enacting stories with their dolls and using their imaginations to create worlds of stories in their backyard. Having recently graduated with her Bachelor of Arts through Thomas Edison State University and currently earning a Graduate Certificate in Editing through University of California Berkeley Extension, Megan is using her love of story and purpose of serving Christ to write and edit stories.