By Hannah Whatley
I stared at him through the shafts of early morning sun, searching for something behind the blue in his eyes. "A mission?"
He looked at me, then nodded. "To find the other half of who you are."
Hawk and Ion are searching for their identities. Hawk has been sure of hers for a century, while Ion is only beginning to understand his. Ion is a college student in Los Angeles trying to hide from his dark past. Hawk is the mysterious teenage girl next door who lives with an old man Ion later learns is her mentor. Though Ion gets the chance to go out with the girl of his dreams as well as shame his long-time rival, Riley, something stronger draws him to Hawk.
When Ion follows Hawk into another Dimension, he is exposed to a realm inhabited by Sliders, superhumans who were created to show the people of Earth the truth about who they are. Ion gradually recognizes his true identity as a Slider, developing the powers he always suspected he had and learning the importance of self-sacrifice. Hawk, though only assigned to be Ion's teacher, discovers a greater and more ancient connection between them that could change the fate of both the Dimension and Earth. Can they push back the coming Darkness before it is too late?
The Blood Race by K. A. Emmons is by far the best book I have ever read, and I was shocked when I realized it was Kate's debut novel. The story pulled me in from the first page; suspense and intrigue are mixed with the universal search for answers to the questions that challenge us daily. Yet, it doesn't use its powerful message as an excuse for poor technique and grammatical errors, but accentuates its theme with quality writing. The plot is impeccably crafted, revealing secrets at just the right moments and using symbolism in significant ways. Although the book doesn't contain any conversions, mentions of Jesus, or Scripture references, The Blood Race includes so much truth about the spiritual realm, light and darkness, and God's relationship with us that it rises above most Christian fiction.
Writers can glean much from this novel. The development of the entire cast of characters is excellent and well thought out. Each character has a weighty purpose in advancing the plot. Whether you are a male or female reader, you will enjoy the book, because it narrates from both points of view. Hawk, though tough and abrupt on the outside, struggles with issues common to young women and is relatable to the audience. On the other hand, I gained much insight into the mind and thought patterns of a young man as I read the chapters written from Ion's perspective. A deep thinker, he battles voices in his head that tell him he must remain aloof from others and is a failure and not someone to be proud of. Both characters, however, begin to find answers to their questions and overcome their struggles toward the end of the book.
The Blood Race doesn't shy away from controversial issues. I love the diversity of races, origins, and backgrounds in the characters, as well as the book's candor about struggles each of us face, such as temptation, deception, fear, and anger. The spiritual depth in this book is rare among young authors. I felt myself resonating with each word of wisdom spoken by Sensei, each truth that Hawk and Ion learn, each battle won. The Blood Race is a prime example of transformational fiction, entertaining but also expounding spiritual truth in a way that isn't preachy and, as Charles Martin would say, "reaches in behind the calloused parts of your heart."
The first book in its series, The Blood Race leaves the reader longing for more, and I will be eagerly awaiting the next Emmons masterpiece.
Advisory: Because of the moderate language level and brief mentions of sensuality, I would recommend this book for older adolescent readers. The language and sensuality is mostly used to move the plot forward and is discouraged by other characters later in the book.
---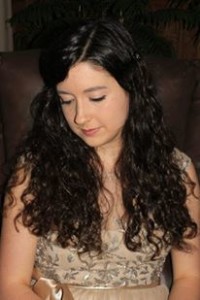 Hannah Whatley is a rising college freshman at Mississippi College as an English Writing major. One of her passions is to spend the rest of her life learning how to write from her heart and understand how others can write from theirs. She spends most of her time writing and reading in her little brick house in Mississippi, which she shares with her parents and her dog, T.J. Her other interests include dance, listening to music, playing violin, doing word art, and editing, and she is passionate about the abolition of slavery and children who have experienced abuse.