At last, the results are in, and we have our finalists and winners!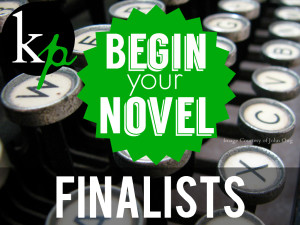 Over the course of the week, we will be counting down to our first place finisher. Tonight, however, we are sharing the names of those who finished in the top 10 through 4.
I personally want to thank each and everyone who submitted their novel opening to our contest. Sharing your work with others is never easy. I enjoyed reading your submissions, and while you may not have had your name listed, I thought there were many entries which had potential. With tweaking, I think many openings sounded like they could have been the beginning of a fascinating novel! Keep writing, and keep submitting!
Next week, once the winners are announced, we will also share a couple of posts giving our final thoughts on the contest, what people did well, and where points were missed.
Congratulations to our second round finalists! Without further ado, here are finalists 10-4.
10. Untitled by Anna Baber – 69
09. Untitled by Anna Ruefer – 69
08. Selena, Selena by Deborah Rocheleau – 71
07. North Wind by Garret Robinson – 72
06. Untitled by Phia Colette – 72
05. The New Society by Natalie Hocker – 74
04. Untitled by Lowri Gowing – 75
Tied scores in the second round were broken by comparing first round scores. The higher scoring entry in the first round broke the tie.