Hey Kingdom Pen! We are excited to bring to you our very first book giveaway!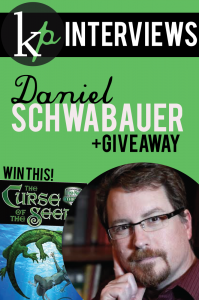 I think it is very appropriate that our first giveaway is "The Curse of The Seer" by Daniel Schwabauer. For those who don't know, Kingdom Pen, in a way, owes it's existence to him, as the original founders of Kingdom Pen met through the curriculum he developed called The One Year Adventure Novel. With the addition of John Stonestreet, you could say Daniel Schwabauer is to Kingdom Pen what John Locke was to the American founding fathers.
If you'd like to be eligible to win a FREE copy of his book, "The Curse of The Seer," then follow the directions below. But first! Check out this synopsis of the book:
Everyone thinks Eli is afraid of the dark, and they're right. But it's not because he can't see in the dark; it's because he can. After his father is murdered by kingsguard mice, Eli is tortured and condemned to death.
With the help of Tira-Nor's old seer, AlBaer, Eli escapes his executioners and discovers that his mother, who was sold into slavery in Cadrid years before, may still be alive. Finding and saving her becomes his passion, but can he survive slavery, cruel taskmasters, foreign armies, the hatred of his own people, and even death itself? AlBaer can't—or won't—protect him from the supernatural evil that stalks him, and Eli must try to unravel the seer's curse alone.
We are also excited to bring to you an interview Mr. S was so gracious to provide us. We hope you are enlightened and inspired as much as we were by his words.
Kingdom Pen: What compelled you to be a Christian author and teacher?
Daniel Schwabauer: I fell in love with stories and began writing in grade school, long before I became a Christian. I started teaching writing because I wanted to help young writers. It had taken me years to see that I needed to learn the fundamentals of storytelling, and I didn't want anyone else to experience the same frustration of not knowing what their writing lacked.
Christianity is the defining trait in my life. It informs and shapes my view of life, humanity and all of reality. In that sense, I can't help but be a Christian writer and a Christian teacher. But I didn't set out to become these things. I determined to follow Christ, and also to write and to teach.
KP: Who has influenced you the most in your writing?
DS: This is very hard to answer because there is more than one crucial element to any writer's journey. James Gunn's classes at KU were extremely helpful, but I was also inspired by G.K. Chesterton and C.S. Lewis.
KP: What makes a dynamic character?
DS: Short answer: whatever makes them truly human, or helps the reader to connect with their humanity.
Characterization techniques taught in writing classes often fall flat because they aren't implemented in a way that resonates with readers. Writers try to push characters to the extremes of humanity in order to create a fascinating person, as if what we care about is someone'sedgy and unusual characteristics. This doesn't work. Extremes don't connect character and reader. Understanding does.
A high school quarterback character who bullies the hero is a cliche. You can't humanize him by giving him purple hair and a love of ballet. These traits might look interesting on a character sheet, but very few readers will recognize him. He won't resonate.
Instead, we need to see ourselves in him–or see him in ourselves. Why is he a bully? What made him dye his hair purple? What kind of ribbing does he take from his team when they discover he likes ballet? These are the things that will make him human: not the traits themselves, but the reasons behind them.
KP: What or who inspired the idea for your book series, The Legends of Tira-Nor?
DS: At the age of four my daughter was bitten in the face by a dog. It took two plastic surgeries and 39 stitches to fix the damage. Afterwards, I sat by her hospital bed reading the story of David and Goliath as she slept. She had frequently asked me to tell her stories about mice, so I decided to write a mouse version of David's story that would embody the courage I saw in her. I meant to finish the novel in a few months, but it took me four years. The series grew out of that.
KP: In a novel, is it better to have more showing than telling? Why?
DS: Every novel uses both, but yes, showing as a mode of fiction is more effective for most scenes than telling.
Showing involves creating images in the reader's imagination. Those images are evaluated by the reader's reasoning faculties as they unfold.
If I write, "Sweat trickled down his brow," you will see a concrete image in your mind, but your brain will interpret the sweat to mean something else (i.e., "that guy feels hot"). Thus, showing gets both sides of the brain involved in the story.
Telling, on the other hand, is purely conceptual. It doesn't activate the reader's imagination, so only one side of the brain is really "awake." If I write, "he felt hot," your brain doesn't create any images on the screen of your imagination. You get the concept, but nothing else. Too many concepts and your readers will grow bored.
KP: With so many differing opinions on the subject, why do you strongly advise against using adverbs? Is it ever OK to use them?
DS: I advise against them because they are almost always used as a crutch. Most of the time, especially in the work of young writers, adverbs are there to strengthen a weak verb. It's better to replace the weak verb/adverb pair with a stronger, more vibrant verb.
But yes, it's sometimes okay–and even right–to use an adverb in fiction. Whenever you can't get across the same meaning with a more active verb, use an adverb. But this is not as common as we like to think. Most of the time when I use adverbs it's out of laziness.
KP: What is the key to writing a great novel?
DS: I don't know.
KP: In my experience, I have found the editing process of a novel to be quite daunting; what do you suggest to be the best way to proceed?
DS: Plan for it to take twice as long as you expect. Most novels need more revision than their authors want to give.
KP: What would you consider to be the most difficult part of writing a novel?
DS: For me it's getting the rough draft written. But I know people who have no problem cranking out words. Their issue is making those words readable.
So perhaps our universal struggle is against mediocrity. I think the truly great novels are a combination of an inspired idea and a depressing number of rewrites.
KP: What are your writing essentials?
DS: An inspired idea and a depressing number of rewrites.
Also:
Scrivener
A quiet room (my office)
Background music
Hope
The irrational conviction that my story is worth telling
And now, the giveaway!
To be entered in the giveaway, click the widget below and login with either Facebook or your email to see all the possible ways to enter. The more options you choose, the more entries you get, and the greater your chances of winning! Additionally, some entries you can make once a day to further increase your changes of winning.
This giveaway will run the 8th-15th, so enter while you can!
May the odds be ever in your favor!