I see you waiting,
Waiting there for me
With tears that flow like a river
And a heart that longs to be free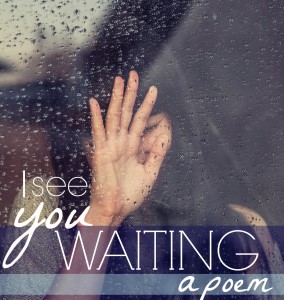 I see you crying
Crying for a love
That holds your heart in chaos
And makes you his beloved
I see you searching
Searching for a hold
But you can't see me here
Giving you a hope
I see you finding
Finding what isn't me
You give your heat to another
Praying that he won't leave
I see you screaming
Screaming late at night
At the world that has left you bruised
And buried you deep inside
I see you silent
No words are left to say
Nothing can describe your pain
For no one had come to stay
I see you drowning
Without a pleading cry
You think no one will love you
But child, you are mine
I see you standing
Staring up at me
Knowing that I've held your heart
And all those things, I've seen
I see you laughing
Heart filled with life
You see me here beside you
And you know that you are mine
This poem was inspired by a friend of mine who has recently been going through a really rough time in Public High School. While I haven't communicated with her a whole lot, God has kept me praying for her, and has been continuing to give me glimpses of how much He loves her. So, this poem is through God's point of view, which was a little difficult to write, but I believe I was able to at least capture some of the idea around how God sees an individual person struggling for something to believe in, while He's been there the whole time, often not being seen.