Four and half years ago, Kingdom Pen began as a simple eMag comprised of articles, short stories, and poems. Primitively produced with Microsoft Word, Kingdom Pen was founded, run, and written for Christian teens, by Christian teens. It was free, and it was basic, maintained by volunteers.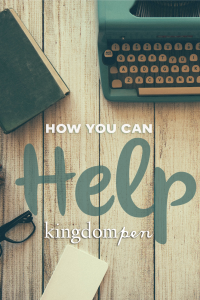 Kingdom Pen has drastically changed since we began, though we are all still volunteers, and our content is still free.  It is also still our goal to encourage a generation of Christian writers and artists to use their God-given talents to impact the world for good and advance God's kingdom here on Earth. Our culture is starving for truth—the truth of Christ. As Christians, we have the potential, more than anyone else, to supply this truth. Kingdom Pen wants to be here for the long term to equip you—the bringers of truth.
As it stands right now, most of us on staff are not teens anymore.  Now into our early 20s, many of our staff members are in college, and/or work two or three other jobs in addition to Kingdom Pen. Our free time is very limited so we are always looking for help and new talent to become tomorrow's leaders of Kingdom Pen.  The current Kingdom Pen staff members were once Kingdom Pen readers who responded to opportunities as they arose to lend their talents as writers, editors, graphic designers, content managers, administrators, and so on.
If Kingdom Pen is going to continue to thrive, it will be as a result of some of our current readership stepping up into active participation as members of the Kingdom Pen staff.
If you'd like to get involved, email us at kingdompenmag@gmail.com with the subject line, "I Want To Help!"
If you enjoy Kingdom Pen, and share our vision of encouraging young authors to write for Christ and advance His kingdom here on Earth, then we would love your help in this endeavor! There are many different things you can do to join in and aid Kingdom Pen, and we would greatly appreciate any assistance you can offer.
Here are a few things you can do to help:
Pray!
Pray for us as we seek first and foremost God's will above all else. There are a lot of things we would like to do with Kingdom Pen, but they would not be good unless they were part of God's will.  So join with us in asking God to direct our paths into His purpose for this work.
Read, comment on, and share the posts!
Being engaged on the Kingdom Pen website goes a long way as well. Not only will you be encouraging your fellow Christian writers, but increased activity and sharing will allow more Christians to find Kingdom Pen, and benefit from what KP has to offer.
Subscribe and submit!
Yes! We want you to submit! We want to publish you! So subscribe to our newsletter to be eligible, and send us your writing!
Spread the word!
Tell everyone you know whom you think would be interested in KP. Tell your friends, your homeschool group, and any writers you know. The bigger Kingdom Pen grows, the more resources we will be able to offer you in return!
Buy Merch

  
Birthdays, Christmas, Easter, or just for fun, Kingdom Pen Merchandise make great gifts for your Christian writing friends! Not only do you and your friends get an awesome piece of clothing, but you are also helping to support and spread the word about Kingdom Pen in the process!
Donate!
We welcome those of you who are led to contribute financially to growing the Kingdom Pen platform.
More funds would mean more contests with bigger cash prizes.  It would also help cover our operating expenses related to our web hosting platform, domain name registration fees, design software, etc ., and enable us to invest in other areas to continue to expand and enhance Kingdom Pen.  As stated above, we are all freely donating our time and effort Kingdom Pen, which we are more than happy to do. We LOVE getting to spend our time working for Kingdom Pen, but we hope to someday be able to retain our valuable human resources by competing with those who would entice our staff with jobs that pay money!
Basically, the more funds we have, the more we can improve Kingdom Pen! We would very much appreciate any amount you can donate to the cause of Kingdom Pen!
We are very grateful for all of the support and encouragement so many of you already give us! We are optimistic about the future, and can't wait to see what is in store for Kingdom Pen in the coming months and years!