By  Ingrid Dornbirer
The dagger of lies has pierced again,
Nothing will console me.
Unworthy, shameful, filthy, weak,
I let their words control me.
My eyes, they spill the tears of pain,
As angry thoughts surround me.
Will the eyes of love and truth
Never search and find me?
"Child," He whispers as
His arms reach down and hold me,
"You're here within My grasp,
Look at Me, behold Me."
I look and see His eyes of grace,
He smiles kindly at me,
I touch His wise and noble face,
And wonder, "Does He love me?"
Then suddenly I see Him there,
Upon the cross He bore for me,
The scars along His side and brow,
Crown and spear He took for me.
The answer is in His final words,
The words that free and pardon me,
My guilt and shame are nothing now,
Because of what He did for me.
"It is finished."
---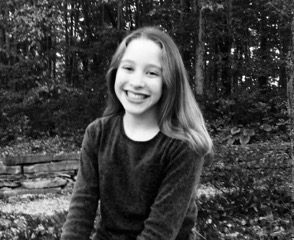 Ingrid Dornbirer is a 13-year-old homeschooler.  She lives with her parents, 3 sisters, and one brother near Columbus, Ohio in the country on a small farm.  Her obsessions:  JESUS (first and foremost), writing fantasy and poems, acting (she performs with her sisters in community theater shows), singing, reading (mostly fantasy), drawing, dancing, and spending time outdoors and with her family.  She hopes to become a published author when she grows up and is currently writing 3 novels, one with her sister, Greta.