It was his very first spring; he was a young sprout and that day started out perfectly…
Blade looked up at the breathtaking sky. Beautiful, hardly a cloud covering its perfect canvas. "Isn't it a nice day?" he asked his brother, Root who stood tall by his side.
"Yeah, sure," Root replied in his usual disinterested drawl.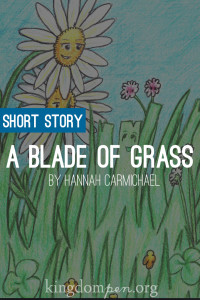 A ladybug passed Blade's line of sight, and he watched it land on a lovely, tall stalked dandelion.
His roots tingled with excitement. It was Dandy. She had sprouted the same day as him, and he had loved her ever since she was a bud.
As the fat bug tickled the golden flower's face, she laughed, and as that joyful melody rang out, Blade couldn't help but smile.
Then it happened. She glanced his way. "Hi!" she said looking down at him.
 What do I do? She's talking to me! Blade thought in a panic.
"You're Bean, right?" she asked.
He glanced around then looked back at her. Maybe she's talking to someone else. Bean? There aren't any Bean's around here. "Are you talking to m-me?" He stuttered.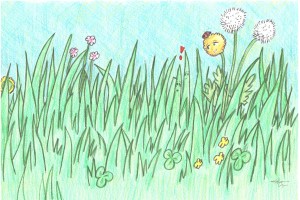 She giggled as the lady bug crawled down her stalk. "Yes, silly. I don't think anyone else around here has got a name like that."
"No, I guess not." Blade wanted to tell her that his name wasn't Bean, it was Blade, but the way she said it made him wish that it was.
"Not that I don't like that name," she continued, "It's cute."
Some of the other weeds and grass in between them snorted in amusement and Blade blushed slightly.
"Thanks, I guess. Uh… your name is Dandy, right?" Blade asked, trying to pretend like he wasn't sure.
Dandy nodded happily, making her short petals bounce up and down. "It's not the most original name for a dandelion, but I think it's pretty." She said.  [Read more…]