We give you our twenty-seventh installment of KP Critiques! We greatly appreciate the willingness of our subscribers to subject their work underneath our editor's scrutiny. While critiques are necessary and greatly beneficial, it's never easy to put your work out there for all to see, and for it to be publicly critiqued. Thank you for having the courage to partake of this daring endeavor!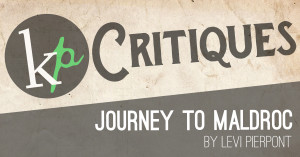 (Our editors really aren't that scary.)
Journey to Maldroc
Levi Pierpont
Gavryn awoke to his sister, Autumn, shaking his arm. "Gavryn, it's time to go to school!" She cried. "We could be late!"
"Sorry, Autumn… just… really… tired." He replied, his voice groggy and shaky. He got out of bed and found his school things, put them in his backpack, and walked down the hall to eat breakfast. He was always quick at getting ready.
"Gavryn, can you take the trash out to the incinerator? Josyia already left for school."
Incinerator. Interesting.
"Sure thing, Mom." Gavryn replied. He needed a minute away from others to think.
"Thank you, Gav." She replied. [Read more…]