We are so delighted to be presenting you with our twenty-sixth installment of KP Critiques!! All of you amazing subscribers who have submitted your work for us to critique, THANK YOU!!! Through your courage you have provided us with substantial material, as well as aided in sharing wisdom to fellow writers. Receiving constructive criticism is never easy, but it's necessary to grow as a writer!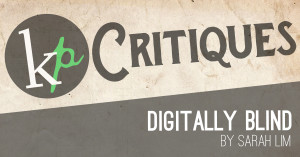 So please continue flooding us with your wonderful critiques!
Today's submission is an excerpt from Sarah Lim's short story, Digitally Blind
The incredible submission!
The package was addressed to a Miss Lunaeira Evans who lived somewhere on the outskirts of the city. Job Holt, thirty-seven years old and still of no considerable mark in life, fingered absently at the wrapping twine and set the package down on the seat next to him.
"fingered absently at the wrapping twine" A little awkward to read.
Postman. Archaic term for a now highly advanced technological role in society. Every day Job filtered through the endless influx of mind-messages. Instant intrigue here! Statistically speaking, one in every thousand mind-messages was reportable. But reporting the treason never gave him any extra income—it was all part of the job. What earned extra revenue would be those once-in-a-blue-moon physical packages, such as the one addressed to Miss Lunaeira Evans. Even then, not every physical delivery was as lucrative as what could be dug out of the trip. [Read more…]