With the Christmas spirit sparkling everywhere we have a little gift for one of our privileged subscribers!  One of you won Mr. Schwabauer's amazing book The Curse of the Seer!
We would like to again thank Mr. Schwabauer for giving us this amazing opportunity. His generosity made all of this possible.
And now the revealing of the winner's identity! 
Savanna Hensley you are the lucky gal and now the proud owner of The Curse of the Seer. Congratulations!!!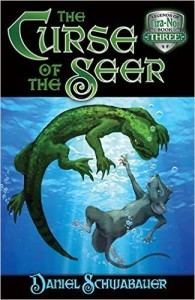 Thank you all so much for participating in this giveaway. We promise, there are more on the horizons!
What giveaways would you like to see Kingdom Pen hosting in the future? 
May your days be merry and this Christmas white!
Merry Christmas!