Yes! Kingdom Pen is back with another writing contest! This time, you could win up to $100! The great thing is, you probably have your contest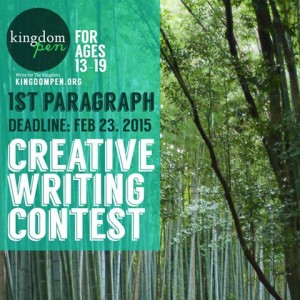 entry already written!
This is a "Begin Your Novel" contest, where Kingdom Pen will be choosing the best novel openings. If you've ever written the opening paragraph of a novel, you have an entry! We will post submission details next week, February 9th, when the contest opens and we begin accepting contest entries.
To enter, you must be 13-19 years of age and a KP subscriber. Not a subscriber? You can sign up here.
If you haven't already, make sure to "like" us on Facebook and follow our Pinterest page to receive writing tips, new posts, and details about upcoming KP events.
I hope you are as excited as we are to kick-off this new era of Kingdom Pen. Prepare your novel opening, and get ready to enter!