By Grace Li
Lilian tightened her grip on her littlebrother's sticky, chubby hand, dragging him through the afternoon street of Whitechapel. If only he could walk faster! grumbled Lilian as she thought about her friend Betty's birthday party this evening. Of course her parents would have to let her go; at sixteen she could legally work if she wanted to. She deserved this party for taking Ronny to visit their aunt today and helping Auntie waste all her sugar ration on cakes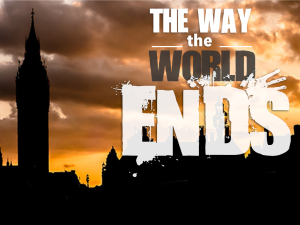 for him. Now, if they got home early, she'd have time to tidy herself up, and maybe mum would even lend her a dress for the party.
Her brother suddenly huddled closer to her as a wheezing old man reeking with alcohol stared at them; they got a lot of weird looks on the streets now, like all children staying in London after the government-issued evacuation. Most of Ronny's friends had gone to the countryside for refuge, but their parents balked at handing him over to strangers. "Yer mum and dad don't care nothin' 'bout yer safety, lass? They're just keepin' yer lil brother here for the Jerry bombs!" the old man croaked after them.
"Don't listen to him, Ronny. He doesn't know anything," whispered Lilian as she hugged her brother to her side. She could not stand against his worried, puppy look no matter how much he annoyed her just moments ago.
"Will the Jerrys really get us?" asked Ronny, still distressed over the old man's comment. [Read more…]