Dearest community members,
It is with a heavy heart that I must inform you that Kingdom Pen has reached the end of its life. As of tomorrow, we will be shutting down the website and disbanding the team. We, as the staff, simply cannot continue on. Not only is time scarce due to many of being enrolled in college, but, we also have no money; many of us are working two or three jobs to make ends meet.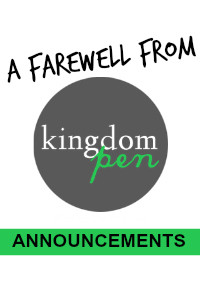 I'm sure you've noticed that the graphic for this post is somewhat lacking. Laurel went on strike earlier this morning after demanding payment for her services. The cookies just weren't cutting it anymore. We also apologize for any errors in this article. Both our editors left a few minutes ago to go beg for food in exchange for publically correcting peoples' grammar mistakes.
I hope my pirated internet connection will hold long enough for me to get this message through. I'm pretty sure the Jittery Joes people are going to notice the new cardboard box soon. It's not a lot, of course, but its home. A little wet when it's rainy, but not that bad after you get used to it.
We have really enjoyed our time together these last few years and wish you all the best.
Sincerely,
Your Now-Cardboard-Box-Indwelling Secretary Sarah
PS—Happy April Fool's! But seriously, we really do depend on y'all to help us keep KP running. *cough* Swag yourself. *cough* Sorry, this weather is really getting to me. Cardboard boxes really breathe a lot, y'know?