By Greta Dornbirer
Oh, where are you going,
On this sunny day?
To the country I'm a-going.
Why to the country?
The city you should try!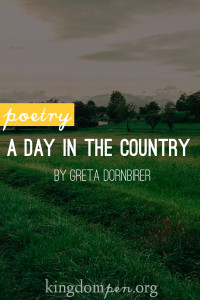 Oh no! The city is not for me.
For I prefer the country,
Where all is bright and gay.
The night is dark and starry,
And brilliant is the day.
The air is crisp in autumn
The cider is a-brewing.
Everything is rustic.
Birds chirping in the spring,
The smell of sweet honey,
The soft, brown fur of the bunny.
Ol' farmhouses,
And grazing horses,
Fields of corn,
Little calves being born.
Fields of lavender asters,
The soft wind blowing,
The green of the trees,
A feeling of being free.
Cows a-mooing,
Cats' meowing.
The barking of the dog,
And the smell of the hog.
Squawking of chickens,
The sound of laughing children,
The light through the trees on a sunny day,
Bright red barns,
And the beautiful farms,
Are all a sight to see!
But the best, by far, is the bright blue sky,
With the glittering stars at night.
You may prefer the city,
With its sparkling lights all blue,
That is fine with me,
But, I will not be there with you,
For I am going to the country!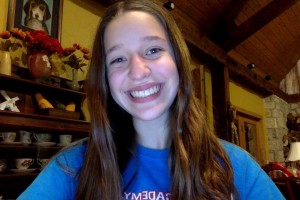 Greta Dornbirer is a fifteen-year-old homeschooler. She lives in Ohio with her four younger siblings and her parents. Greta loves writing and is currently writing a novel with her sister, but she has not published anything yet. She has written fantasy and fiction so far, but she would love to try writing adventure and mystery.
Besides writing, Greta enjoys reading, acting, singing, going outside, and painting. When she grows up, she wants to become a published author. Greta blogs at http://writingandblog.wordpress.com.