Grab a paper and pencil, because this isn't an article you can just read and ignore. Instead, you'll be forced to examine yourself and identify what's hindering you from writing the book you dream about. Because, let's face it, most of us haven't achieved our aspirations. We're in despair because our writing style hasn't sharpened quickly enough or because we're unable to finish a draft.
We're in trouble. We need a breakthrough—which can be accomplished by training ourselves to detect and destroy obstacles that might be holding us back. But first we must address the core issue.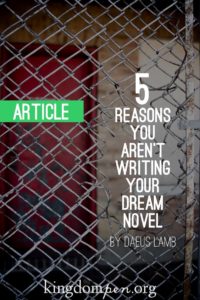 What's Your Long-Term Vision?
If you can't define why you're a writer or what your goals are, you'll lack motivation, and the rest of this article won't matter. Knowing your desired destination will help you navigate toward it and determine what to sacrifice along the way. [Read more…]