By Sophia White
Time-travel, with or without the use of machines, has been a growing theme in fiction in the last century. It corresponds in many ways to a longing almost all of us have felt at one time or another: a longing to go back to another time, whether to escape the troubles that are pressing us now, or to enjoy a "simpler" life, or to experience history first-hand. But while actual time travel may not be a possibility in our lifetimes, books offer us the opportunity to travel to other worlds, and works of historical fiction offer a safe passage to time travel to former times.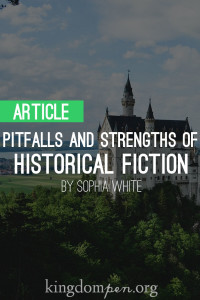 Historical fiction is a story set in a real, past time and featuring some event or character that really was. A story that says "set during the American Civil War" but which makes no mention of the war, slavery, Conscription, major battles, or President Lincoln does not count –– it's more like fantasy.
What makes historical fiction such a good genre to read (and to write)? One obvious advantage is the ability to learn history through the eyes, as it were, of contemporaries of the time in which the book is set (even if the point-of-view character is mostly fictional), without the bore of textbooks. One can learn all sorts of things in settings which make the knowledge seem crucial –– a teacher's explanation that the weather was bad on a certain day in the early spring of 1064 probably sounds meaningless in class, but when one is reading a book set just before the Norman Conquest, the knowledge takes on importance to all of England.
History, when no longer a chore to be slogged through in a certain amount of time and quizzed on, becomes something interesting and fascinating, with endless rabbit trails to research and chase to their remote ends. Did you know that the Vikings sometimes ate whale, but not often, due to the danger involved in catching them? That carrots in eleventh-century England were purple, not orange? Or what happened to William and Matilda's fourth daughter, or didn't they have one after all? (Hint: the last one is still unanswered.) [Read more…]