By Greta Dornbirer
Oh, where are you going,
On this sunny day?
To the country I'm a-going.
Why to the country?
The city you should try!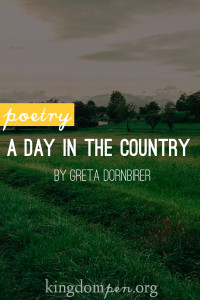 Oh no! The city is not for me.
For I prefer the country,
Where all is bright and gay.
The night is dark and starry,
And brilliant is the day.
The air is crisp in autumn
The cider is a-brewing.
Everything is rustic.
Birds chirping in the spring,
The smell of sweet honey, [Read more…]