Not exactly the title you were expecting to see from a NaNoWriMo-prep article on Kingdom Pen, now was it?
Pretty soon, the beginning of November will hit and writers all around the world will be starting NaNoWriMo: when they attempt to write a 50,000 word novel in just one month.  At this point, several of you probably plan on doing it, several of you have probably decided against it, and some of you are on the fence.
This article is written for those people who are on the fence about it. 
A bit of background information about my own experience here may be appreciated.  I've done NaNoWriMo twice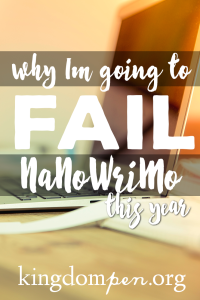 before: once in 2011 and once in 2012.  Both times I competed, wrote, and managed to succeed at hitting the 50,000 word mark.  I was more productive in writing than I had ever been before, and more than that, I enjoyed the challenge.
But then I stopped doing NaNoWriMo.  There were a couple of legitimate reasons for this.  First off, I was in the middle of revising my work from the previous years, and I wasn't about to put it down mid-progress in order to start a new work.  But there was another reason as well.  I had started college.  And the idea of trying to write 50,000 words while handling a full load of college classes sounded insane to me.  Ain't nobody got time for that.
This year, however, I'm planning on doing NaNoWriMo.  But not only that, but I'm also planning on failing NaNoWriMo.  Why, you might ask?  The short answer is that trying while failing is better than not trying at all.  Read on as I try to answer this question more fully. [Read more…]