We give you our tenth installment of KP Critiques! We greatly appreciate the willingness of our subscribers to subject their work underneath our editor's scrutiny. While critiques are necessary and greatly beneficial, it's never easy to put your work out there for all to see, and for it to be publicly critiqued. Thank you for having the courage to partake of this daring endeavor!
(Our editors really aren't that scary.)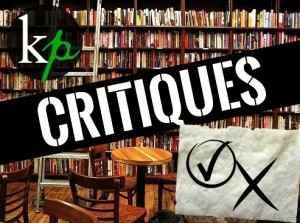 Thank you, Taylor for providing today's submission; an excerpt from her novel, The Healer's Servant.
The Submission
Have you ever looked into the Healer's shop and pitied the poor soul who had to gather the salamander eyes?  What about the acid leaves for wart-removal powder? Or, and here's a favorite of mine, dragon fecal matter? Because that poor soul is me. I have burn scars from the acid leaves. I've collected dragon dung in a sack, then carried it for three days straight on the journey back to the city. In the middle of Summer.
But no. You don't know who I am. All you know is Thelma the Great. The Magnificent. Thelma, with her miraculous healing hands. You don't know the one who gives those hands the ingredients they need to make magic happen. [Read more…]